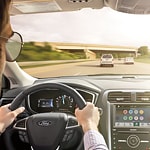 The Ford Fusion remains a popular option among owners who prefer the midsize sedan over smaller or larger vehicles. The car provides a smooth ride while having a roomy interior. New owners also have the choice of three different powertrains.
The base S models come with a 2.5-liter four-cylinder engine that delivers up to 175 horsepower. The vehicles also have a six-speed automatic transmission and front-wheel drive. The S has an estimated EPA rating of 21mpg/31mpg. Upper trim levels come with a choice of a 1.5-liter turbocharged four-cylinder, which provides up to 181 horsepower or the 2.0-liter turbocharged four-cylinder that achieves up to 245-horsepower.
The 1.5-liter has an EPA rating of 23mpg/34mpg. The 2.0-liter is rated at 21mpg/31mpg. Upper trim levels may also come equipped with intelligent all-wheel drive that engages and disengages automatically when needed. Stop by our Carthage, TX Excel Ford Lincoln LP destination, and take a Ford Fusion for a quick drive.