Welcome to Our Service Department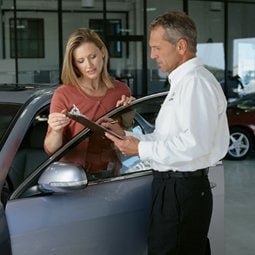 Enjoy the benefits of certified Ford service near Marshall, Henderson, Tatum, Tenaha, and Mount Enterprise TX at the Excel Ford service center
If you're anything like us, you love the feeling of driving a new car, and you want your car to feel like new for years and years to come. Fortunately, one of the best ways to ensure that, and avoid costly repairs in the future is to keep up with your Ford manufacturer-recommended maintenance. And with years of Ford service expertise under our belts here at Excel Ford, there's no one better equipped to serve your car care needs than we are.
Discover Everything from Oil Changes to Complicated Repairs Near Carthage TX
Whether it's time for routine maintenance or a major repair, our service team near Marshall, Henderson, Tatum, Tenaha, and Mount Enterprise TX is up to the task. For basic maintenance, our service center offers oil changes, tire rotations, brake service, battery replacements, and more. By keeping up with your recommended service schedule, you can maximize your Ford F-150, Super Duty F-250, F-350, Explorer, or Ranger model's lifespan and keep it running smoothly. If your Ford needs more serious repair, then our service team has the expertise and means to return it to running as it should.
Take Advantage of Professional Ford Service in Carthage TX
The best part about our dealership service center is we make it easy to get your vehicle the service it needs. Our topnotch customer service standards mean we'll fix your vehicle correctly, do it quickly, and that we strive to make it better on your busy schedule. Use our online service scheduling form below to pick the day and time that works for you to bring your vehicle in, and we'll do our best to accommodate that and get you in when it's convenient to your life. Reach out online or stop by and let's get your vehicle into the Excel Ford service center for maintenance soon.
Our Available Repair Services Include:
Service FAQs
What are the most common repairs vehicles need in the first 2 years?
Within the first 10,000 miles, standard maintenance items include oil changes, tire rotations, brake inspections, cooling system checks, axle lubricants, and a multi-point inspection. These maintenances are repeated within the next 10,000 miles, plus items like the exhaust system, transmission fluid, and a more comprehensive brake inspection. Modern Ford vehicles have a convenient message center to alert you to necessary maintenance.
When do I need an oil change for my car, truck, or SUV?
Oil changes are the most common and most critical component of routine maintenance. Your engine contains metal components that slide against each other thousands of times per minute. Oil mitigates excess wear by allowing these parts to move freely, keeping temperatures down, and removing contaminants via the oil filter. However, heat and excess particle buildup will eventually cause the oil to lose effectiveness, necessitating regular changes.
Ford recommends replacing the oil and filter at the earlier of every six months or 7,500 miles. However, frequent towing/hauling, low-speed operation, and dusty driving conditions may require more frequent changes.
What are the signs that my car's brakes need changing?
Aside from obvious disconcerting sounds like squealing or grinding, there are several vehicle behaviors that can indicate poor braking function. Some examples to be aware of include:
The ABS warning light illuminates
The brake pedal feels oddly stiff or spongy
Acrid or burning odors
Excessive vibration of the steering column
The vehicle pulls to one side
When should I replace my vehicle's battery?
Quality batteries are pretty resilient despite their strenuous task, and they can last upwards of five years or more. However, it's recommended to have your battery tested for strength and capacity a couple of times per year after the three-year mark. Some signs of battery trouble include:
Battery or check engine light illuminates
Engine turnover/ignition feels sluggish or strained
Terminals show corrosion
The battery case appears to be swollen or leaking
Interior or exterior lights dim (especially notable when turning on the A/C)
What do I need to have ready before my service appointment?
Some things you can do to facilitate an easy service appointment include:
Keep records: If you haven't serviced your vehicle with us before, it can be helpful for our technicians to know about past maintenance or repairs. A benefit of continued service with our dealership is that we'll have your records on file.


Make an appointment: If you have a busy schedule, making an appointment can help you get the service you need without compromising your calendar too much.


Clean out the car: Make sure you have all your personal belongings with you to avoid the inconvenience of backtracking for your wallet, purse, phone, charger, etc.